In-Text Advertising
In-text advertising is a form of contextual advertising which is normally served on a cost per click basis. Targeted keywords are turned into links which drive traffic to your offers and landing pages. See below for an example: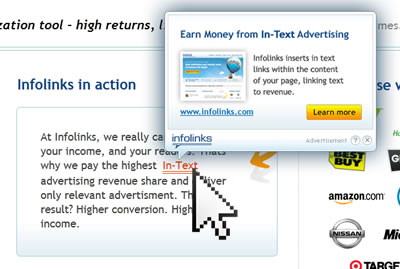 Alot of these type of ads are served on blogs and content sites so the quality of traffic can be quite high due to nature of visitors coming indirectly from the search engines.
Keywords, Keywords, Keywords
Just like PPC you're campaigns are going to made or broken on your keyword lists. Target keywords based on what kind of sites they might appear on. An example of when in-text advertising can be really effective is when you are selling or affiliated with a company marketing a particular model or product.
i.e. Honda Cars Test Drive Offer
The keyword Civic for example is so specific to Honda your traffic quality is going to be really high.
Another layer of targeting and optimisation
Unlike with Adwords or MSN Adcenter you can actually target by site. So once you have some data to work with you can run off a conversion report and see which sites are working and which are blowing money to the wind, optimise accordingly for increased ROI.
Here are some in-text advertising companies to get started with: